Journal Entry:
Fri Apr 2, 2010, 12:42 PM
If you don't here anything from me after Easter, the supermarket and the crazy people there have killed me. In short, work is going to be HELL for the next two days. D: I hate religious holidays. All this stress and panic over nothing. However I'm still on my campaign to get my family to acknowledge it as "Zombie Jesus Day". -has to leave in 10 minutes too- T.T
And I need to get myself away from my damn sewing machine. I've been working on a plushie gift for a friend that escalated into doing something completely retarded because of that stupid HTTYD movie. D: First I'm drawing Kai sketches....now it's Toothless sketches...and now THIS. -punts sewing machine- And plushies are a pain in the neck to make. Well...making patterns is the annoying part and so is pinning them down on the fabric.
My god I do a girly hobby......NOOOOOOO
And

says thankyou for as he puts it, "crazy people I don't know" wishing him a happy birthday. From what I heard, his sister was kind enough to tie a bow and a gift around one of their sheep and leave it in his room while he slept. Oh Sam...I love you so.
D: Commission info will be up tonight or tommorrow because I want to be able to buy stuff again lol.
EDIT:
Here's the TEST plushie for one of my patterns. I have a new pattern for the head to try out but enjoy the crappy one I have right now lol.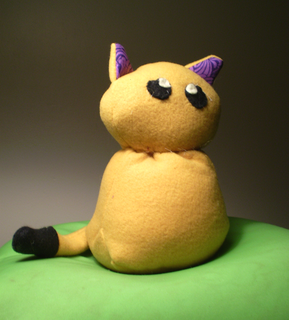 Art Status
Art Trades:
-None and CLOSED
Commissions:
-None and CLOSED
Listening to: Preston and Steve
Reading: Dragon Champion - E.E Knight
Watching: Dead Like Me
Playing: Pokemon SoulSilver stfu
Eating: None
Drinking: Pepsi

...dude... YOU? Making PLUSHIES? That's... that's inconcievable to me, but at the same time, awesome all the same. You gotta post the end result. Dragons are cool enough, but the fact you're MAKING one is pretty kickass.
Reply

I know D: Of all the complex annoying hobbies for me to take up. I posted the test pattern for one of em on facebook. XD It's not as bad compared to "Sealdog" who is now the best plushie ever to cross the planet.

Oh I will lol. I'm going all out for it too. I have wire and everything so the wings and tail can be posed >83. I just thank god that Toothless is a simple design, otherwise I wouldn't have even tried. That and there's a Jessi emu one in the works -evil laugh-
Reply

lol niiiiice! I can't wait to see!

Can you imagine doing one of that BIGASS one?!?!?! THAT'D be damn impressive, I gotta say. Although, Toothless would still take the cake, since... well, he's freaking TOOTHLESS!
Reply

Hahah
I know how it goes with plushies taking forever.
My friend is making me one.
It was supposed to be my Christmas present.
In 2007.
Still waitin' for that sucker.
Reply

I'd start posting sticky notes on all their stuff to remind them. XD Make them feel guilty with "I couldn't sleep last night because I didn't have the plushie you promised me" or something.
Reply

OMG not girly hobbies D= But since it's you ID think it'll turn out that bad with all the effort you're putting XD
Reply

Beat them back with a stick. Its the only wayyyyyy~
Reply

Good luck at work! I hope you survive!

!
AWWW!! PLUSHIE! I want to see! I also want to see the random sketches. I still need to see HTTYD. Probably doing that tomorrow.

!
Reply

XD One day down, one 8 hour shift left to go!
I'll be sure to post em once I get our scanner working again. YES. The movie is so awesome and made me feel like a child...sitting by myself in a theater full of children lol. Just don't become addicted like me and planning to see it again this upcoming week >.>
Reply

Girly hobbies are for the fail! But at least you can be happy you have some non girly hobbies. Like tiring others down to give you money for statues of shit that looks awesome. xD

=^^= Nya
Reply