If you don't here anything from me after Easter, the supermarket and the crazy people there have killed me. In short, work is going to be HELL for the next two days. D: I hate religious holidays. All this stress and panic over nothing. However I'm still on my campaign to get my family to acknowledge it as "Zombie Jesus Day". -has to leave in 10 minutes too- T.T
And I need to get myself away from my damn sewing machine. I've been working on a plushie gift for a friend that escalated into doing something completely retarded because of that stupid HTTYD movie. D: First I'm drawing Kai sketches....now it's Toothless sketches...and now THIS. -punts sewing machine- And plushies are a pain in the neck to make. Well...making patterns is the annoying part and so is pinning them down on the fabric.
My god I do a girly hobby......NOOOOOOO
And

says thankyou for as he puts it, "crazy people I don't know" wishing him a happy birthday. From what I heard, his sister was kind enough to tie a bow and a gift around one of their sheep and leave it in his room while he slept. Oh Sam...I love you so.
D: Commission info will be up tonight or tommorrow because I want to be able to buy stuff again lol.
EDIT:
Here's the TEST plushie for one of my patterns. I have a new pattern for the head to try out but enjoy the crappy one I have right now lol.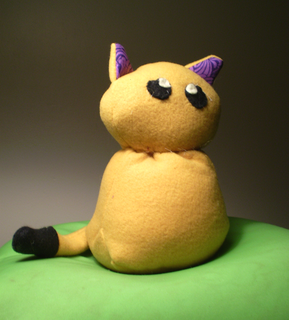 Art Status
Art Trades:
-None and CLOSED
Commissions:
-None and CLOSED