Journal Entry:
Thu Feb 18, 2010, 7:30 PM
Sooooo I lack any really significant updates in my life. We got hit with an awesome snowstorm and I think we topped out around 3-3 1/2 feet. School is boring as ever (though slightly more interesting since I've been venturing down to the Fireside Lounge more.)
Anywayz, the real news is that my rat crew has gotten bigger again. With Gio passing away almost a month ago now, the cage seems empty with just Sawyer and Locke running amiss. My mom happened to hint that I should make use of that space. Hint hint you can get more rats. 8D So of course I started looking. The biggest no no for rat owners is to go to the petstore to buy them. Seeing as how I did that with my last four, I checked out Goosemoose (huuuuggge rat forum) to see if I could find any breeder/rescue within reasonable driving distance. Turns out a guy had 12 babies up for adoption.
XD So tonight I braved an hour car ride to a unknown online person's home. I was really surprised though! He was such a nice guy, asking about my rats I have now and swapping stories. His kids (all 6 of them) brought down a box for me full of 6 tiny little boys. It was like seeing Dante and Gio all over again! They're almost the exact same colors (beige and black hoodies). They were constantly handled by the kids since birth and you could definitely tell. I'm so used to having to WORK to get my new rats to come to my hand. These little guys raced right up and proceeded to shower me in kisses.
Now the rat mansion has the scampering of FOUR little sets of teeny tiny paws. I picked up one beige and one black hoodie. They're currently settling into the bottom part of the cage until I start introductions. Unlike Gio, these guys are roughly the same size as Sawyer and Locke so I don't have to worry about them overpowering one or the other too much.
I NEED NAME SUGGESTIONS AGAIN lol. My brother said to stick with the LOST theme but we'll see. I'll let their personalities come up before I decide on anything.
Real quick shot I managed to get of the pair. They were snoozing in the corner together.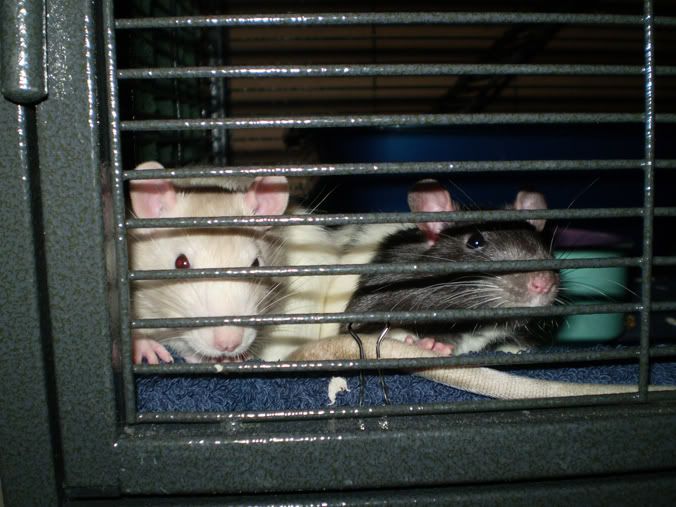 Art Status
Listening to: Keith and the Girl
Reading: White Night - Jim Butcher
Watching: Supernatural
Playing: Bayonetta
Eating: None
Drinking: Pepsi